I WILL: Make Your Dream Job Come True
Download and/or print the flyer for this program!
Fill out this Form if you are interested in finding out more!
[contact-form-7 id="1247″ title="Interest Form: Vocational Program (Dogs)"]
Discover animal related jobs opportunities where you will succeed by collaborating with an occupational therapist to identify strengths, needs, and work task adaptations for individuals of all abilities.
Based on the request of the vocational students, Taking The Lead, Inc. offers three different levels of training for working with dogs. The students can remain at a level for as long as is needed until moving on. We will expand to horse vocational programs and landscaping programs as there is an interest.

Dog Handling 1.0: General dog handling, basic training, kennel work, bathing and grooming, dog walking, and exploring other opportunities with both large and small animals. We also discuss viable entrepreneurship opportunities.

Dog Handling 2.0: Fashioned from ASPCA training for more medical based procedures with hands on training for speaking with and training the dog's owner, grooming dogs, and restraining or performing basic medical procedures as a veterinary technician would.
Dog Handling 3.0: This class is completely individualized to strengthen each student's skills to be a competitive job candidate. Students will work with staff to secure an internship experience based on their interest levels and needs with the end goal being employment.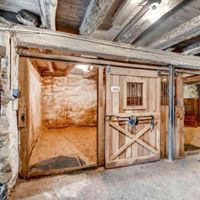 Take the first step to a meaningful job with animals: use our working dog and horse facility to discover or improve skills doing what you love to do!

Why the Program Began:

TTL recognized the need for a vocational program when we attempted to hire an individual to help with our horse program. During the first interview at the farm, it became clear that the applicant was excited to work, but lacked the endurance, coordination, and safety awareness to handle TTL's horses and client. TTL collaborated with local animal jobs and disability support services to develop a customized curriculum with outcome measures focused on exploring animal and farm related vocations, building employable skills, and transitioning into successful employment.

Who Do We Serve:

Taking The Lead, Inc. offers training for individuals of all abilities wanting to work with animals. Some of our students require more intensive supports while others simply need the experience working with dogs in order to explore a career opportunity and gain skills to be competitive job applicants. Each course has been developed based on the needs of the students and we look forward to customizing the programs to continue to meet the needs of your child or adult!