The concept behind Taking the Lead, Inc., a 501(c)(3) nonprofit organization, was created by our lead occupational therapist, Chelsea Whitaker. Ever since Chelsea was young, God blessed her with the ability to train dogs. Although Chelsea felt called to ministry work at the age of 14, she wondered how God was going to use her gift for animal training to share God's love with people. The Lord showed her how dog training could spread joy and healing through her first border collie, Dude.
When Chelsea was 14, she trained Dude to do several tricks including praying, throwing away trash, and performing service dog tasks. Chelsea and Mama Chita took Dude to a nursing home to show off his talents. At the nursing home, Chelsea realized the magic a dog can bring to a person's rehabilitation.
During one of these nursing home visits, Chelsea and Dude encountered a lonely lady who was sitting very crooked in her chair. During their first visit, she didn't speak and wasn't able to throw the ball for Dude, but she couldn't take her eyes off him! During their second visit, she sat straighter and welcomed Dude into her room exclaiming, "Dog!" Chelsea saw a noticeable difference during that second visit watching this woman grip and release the ball in order to throw it to Dude. To everyone's delight, Dude caught the ball and placed it back in her lap. During subsequent visits, she began to engage in conversation using new words like "ball," "fetch," and "thank you." Eventually, she gained so much strength and coordination that Chelsea had to shut the door to her room to keep the ball from flying into the hall when she threw it! That was when Chelsea realized she was called to a career in animal assisted occupational therapy.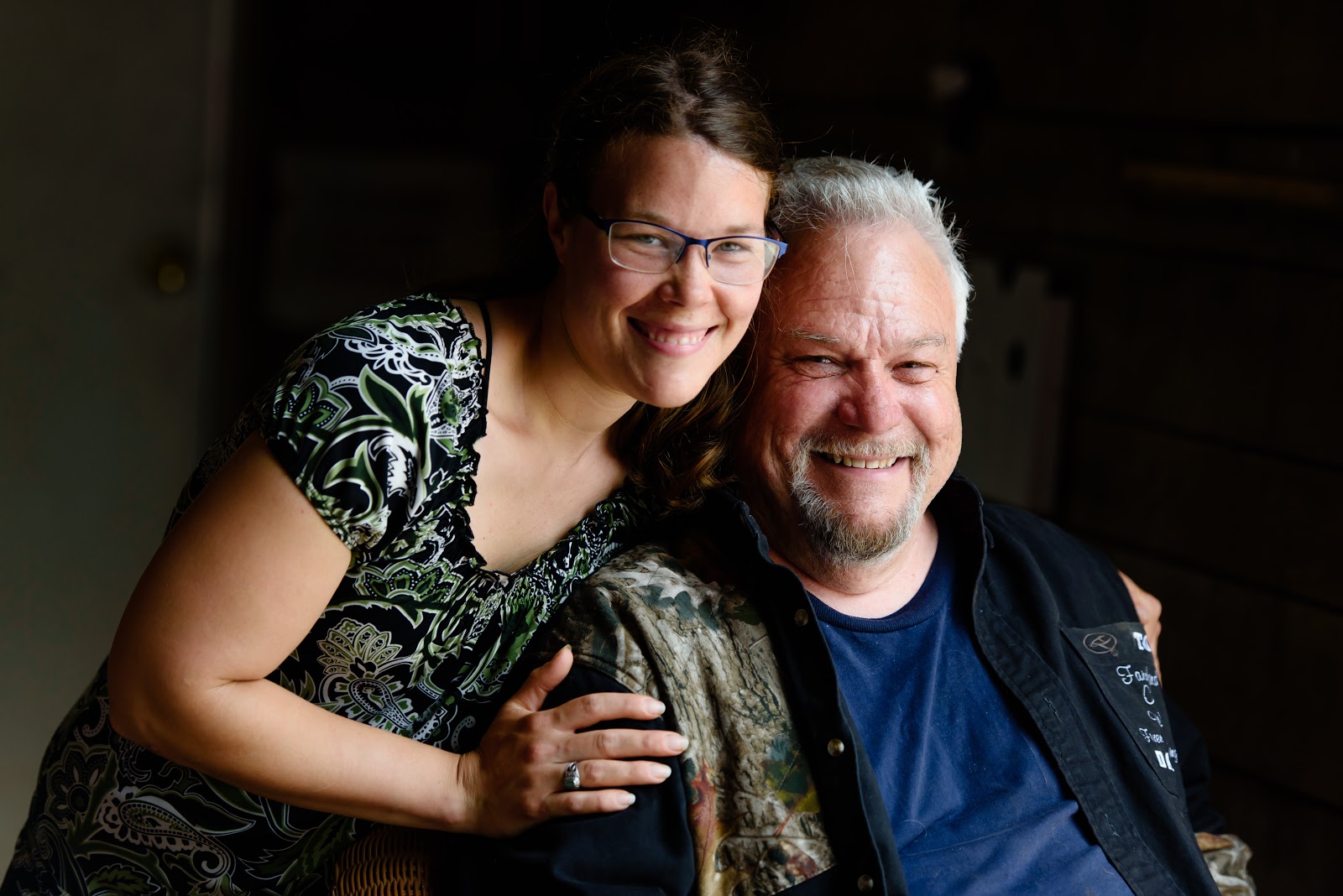 Hippotherapy and Therapeutic Horseback Riding
Touched by the hope that a dog can bring, Chelsea wondered how effective horse-assisted therapy could be. At 19 years old, Chelsea became a certified PATH (Professional Association of Therapeutic Horsemanship) Instructor. Chelsea started a therapeutic riding program at River Valley Ranch while she attended Towson University and earned a Master's degree in Occupational Therapy with a specialized certificate in Autism Studies.
In January 2017, the therapeutic riding program outgrew the ranch. Chelsea and her family decided to do the only logical thing, Chelsea and her parents bought Timberbrook Farm, an 80 acre horse farm in northern Baltimore County, to continue with training dogs and to expand the hippotherapy and therapeutic horseback riding programs.
In hippotherapy sessions, an occupational therapist uses the movement of the horse as a treatment strategy to help clients meet physical and emotional goals. Children and adults hoping to improve focus, balance, muscle strength, communication, and posture to be more independent in daily life benefit from hippotherapy. The sessions are tailored to your goals and home exercises are given to ensure progress at home. Common diagnosis served include Autism, Anxiety, Depression, Down Syndrome, Ehlers Dan-Los, Multiple Sclerosis, PTSD, and other mental and physical disabilities. One of Chelsea's clients with Autism spoke for the very first time during a hippotherapy session! The occupational therapist will direct the session and a ramp and balance assisters are available to make your session as safe and as successful as possible.
As opposed to hippotherapy, the goal of therapeutic horseback riding is for the client to learn to ride a horse independently rather than meet physical or emotional therapy goals. In therapeutic horseback riding, a client learns to steer and control the horse under the guidance of a riding instructor. At Taking the Lead, Inc., clients can work toward goals of going on trail rides through the woods or showing off their skills at one of our horse shows.
After our hippotherapy and therapeutic horseback riding programs were established, the parents of our clients expressed a significant need for their children to establish independence by finding meaningful employment after graduating from high school. Chelsea recognized that our clients have a passion for working with animals, but would not immediately succeed in the workplace without hands on experience and vocational training curriculum to improve focus, problem-solving abilities, fine and gross motor skills, and social skills.
The goal of our vocational program is to teach individuals 13 and up with and without disabilities the skills they need to gain meaningful employment in animal-related industries. Our vocational skills program is so successful because students explore jobs and learn functional vocational skills on a real working farm with live animals rather than in a classroom setting. Chelsea developed a proprietary program with outcome-based measures to document and keep track of clients' progress.
Our program is set apart from others because an occupational therapist identifies the specific needs of each student and breaks down their individual objectives into achievable short term and long term goals. The curriculum is structured and is customized based on the student's interest. Levels of training range from pre-vocational life skills to an advanced program with an internship component to meet the student where they are and help them be as independent as possible on the journey to employment. We create a positive environment for our students to build the confidence they need to find a job they can be excited about!